DBS Events
Quarterly Patron Corner: Narration: The Art of Telling the Story
Due to last-minute technical difficulties, the Monday, September 12, Quarterly Patron Corner meeting was postponed. That meeting has been rescheduled for Monday, September 19, 2022, at 7:00 p.m. EDT. The topic for this session is Narration: The Art of Telling the Story. The guest speakers will include Celeste Lawson, narrator and head of the NLS Media Lab. Other NLS narrators will join her on the panel. The session will run for 90 minutes.
Bring your questions and your thoughts about audio narration and join us. Note that the Zoom link has been updated. The full, new Zoom invitation, including call-in numbers, for the rescheduled Patron Corner is included below.
Join ZoomGov Meeting
https://loc.zoomgov.com/j/1612540777
Meeting ID: 161 254 0777
One tap mobile
+16692545252,,1612540777# US (San Jose)
+16468287666,,1612540777# US (New York)
Dial by your location
+1 669 254 5252 US (San Jose)
+1 646 828 7666 US (New York)
+1 669 216 1590 US (San Jose)
+1 551 285 1373 US
Meeting ID: 161 254 0777
Find your local number: https://loc.zoomgov.com/u/adkR9h3vN
Join by SIP
1612540777@sip.zoomgov.com
Join by H.323
161.199.138.10 (US West)
161.199.136.10 (US East)
Meeting ID: 161 254 0777
Join by Skype for Business
https://loc.zoomgov.com/skype/1612540777
2022 Disability Employment Awareness Celebration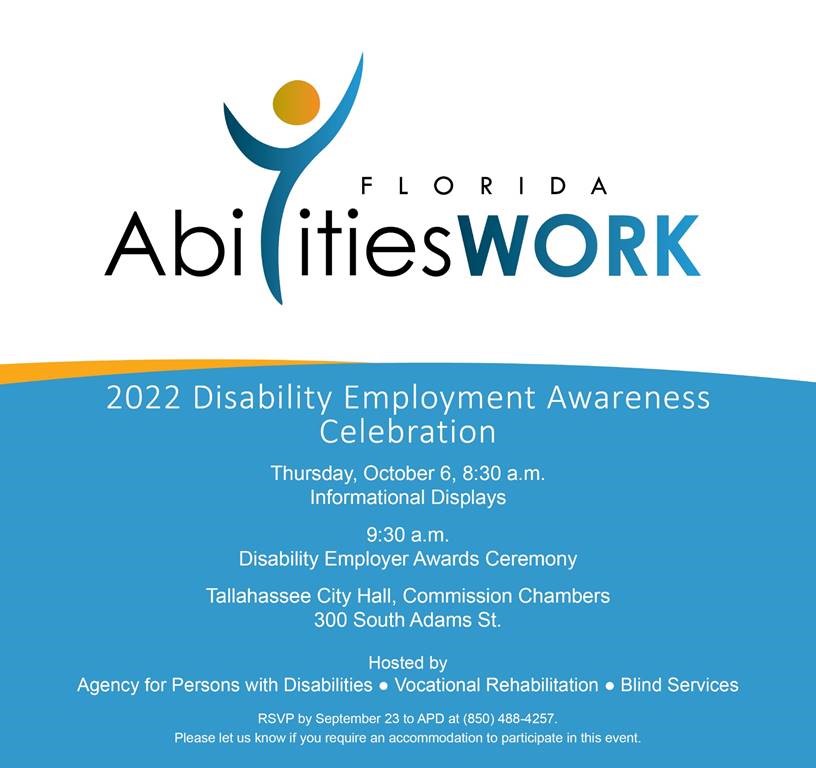 Thursday, October 6, 8:30 a.m.
Informational Displays
9:30 a.m.
Disability Employer Awards Ceremony
Tallahassee City Hall, Commission Chambers
300 South Adams St.
Hosted by
Agency for Persons with Disabilities – Vocational Rehabilitation – Blind Services
RSVP by September 23 to APD at (850) 488-4257.
Please let us know if you require an accommodation to participate in this event.