Overview
Individuals who are blind and visually impaired are no different than those who are fully sighted - they share the same desire to live, work and play within their community. However, misperceptions about blindness have created barriers for many with visual disabilities to fully engage in employment and other life activities.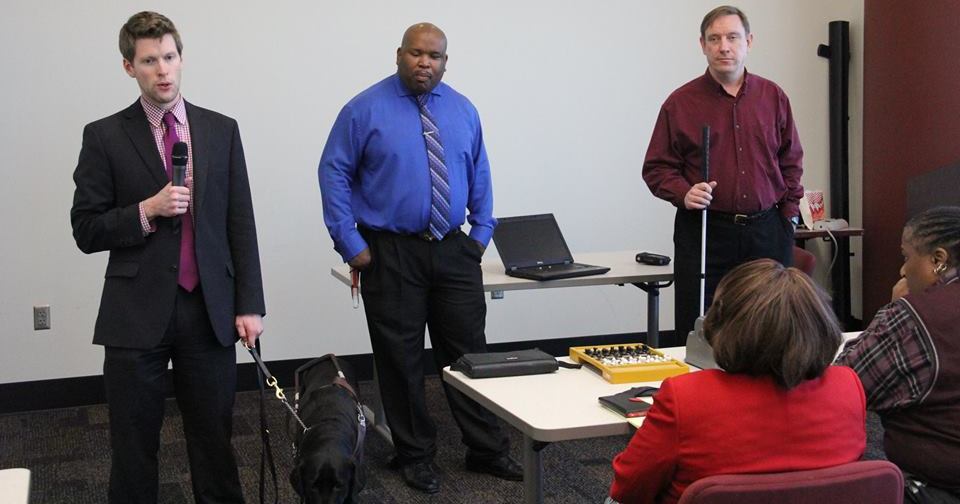 The Division of Blind Services is working to change these perceptions through the "See Different" Initiative by helping people to see blindness from a different perspective and recognize the opportunities these individuals bring to Florida's communities. This is being accomplished through interactive forums, where individuals who are blind and visually impaired are hosting activities to show, not just tell, how they have overcome barriers to independence. These activities include:
Personal testimonials about living with a visual disability;
Simulated experiences, including activities using a blind fold;
Demonstrations on assistive tools and technology;
Education on service animals and the white cane;
Adaptive sporting and recreational activities, such as goal ball and adaptive board games; and
"Question and Answer" sessions about interacting with individuals who are blind and visually impaired.
We invite you and your organization to be part of this exciting experience! There are a variety of groups that have benefited from participating in these forums, including schools, businesses, college and university programs, faith-based groups, and state and local governmental organizations. We have a team of professionals around the state that will work with each group to facilitate a forum at their site. And we tailor each presentation to meet the specific interests of the audience.
By helping more people in the community to "See Different," we will create more opportunities for individuals who are blind and visually impaired to live, learn, work, play, and succeed alongside their sighted peers. We hope you will join us in this effort! For more information, please contact us at (850) 245-0300 or send an E-mail to SeeDifferent@dbs.fldoe.org.