Blog: 2021 Archives
December 2021
Tis The Season To Make Braille Holiday Cookies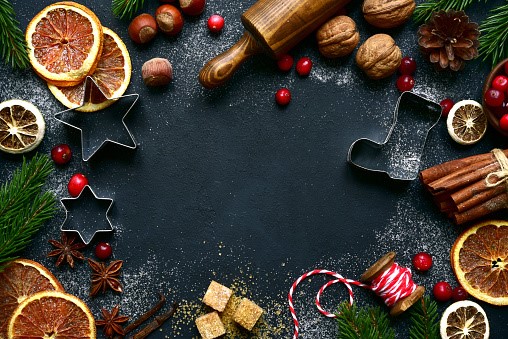 The holidays mean Christmas lights, artificial snow (since we live in Florida!) and of course – baking cookies! Make them extra special this year by adding a cheerful holiday message in Braille. Here are some great suggestions for items you can use to create your holiday Braille messages:
Candy buttons
Chocolate chips
Frosting pen
Large sprinkles
Try out the recipe below or use store bought cookies instead. Don't forget to share your Braille holiday cookies with us on Facebook or Twitter!
INGREDIENTS
1 cup (227 g) salted butter, softened to cool room temperature
1 ? cups (283 g) granulated sugar
1 large egg
2 teaspoons pure vanilla extract
2 ½ cups (355 g) all-purpose flour
½ teaspoon baking powder
½ teaspoon baking soda
½ teaspoon salt
Additional granulated sugar or sprinkles, for rolling
INSTRUCTIONS
Preheat the oven to 350 degrees F. Line two large, rimmed baking sheets with parchment paper and lightly grease with cooking spray.
In the bowl of an electric stand mixer fitted with the paddle attachment or in a large bowl with a handheld electric mixer, cream together the butter and granulated sugar until lightly and fluffy, 3-4 minutes. Scrape down the sides of the bowl as needed.
Add the egg and vanilla and mix again for 1-2 minutes until the batter lightens in color. Scrape the sides of the bowl as needed.
In another bowl, whisk together the flour, baking powder, baking soda and salt.
Add the dry ingredients to the wet ingredients and mix until combined.
Scoop the cookie dough into rounded balls (about 2 tablespoons in size), roll in granulated sugar or sprinkles and place on the prepared baking sheets a couple inches apart (about 12 cookies per baking sheet).
Bake for 11-13 minutes until slightly crackly on top (but not much color around the edges or bottom to keep them soft and chewy).
Let the cookies cool for a few minutes on the baking sheet before removing to a cooling rack to cool completely.
Add some Braille to your cookies and enjoy!
Recipe Is from EASY Soft + Chewy Sugar Cookies | Mel's Kitchen Cafe (melskitchencafe.com)
How to Use the Holidays to Bring Awareness to Blindness and Visual Impairments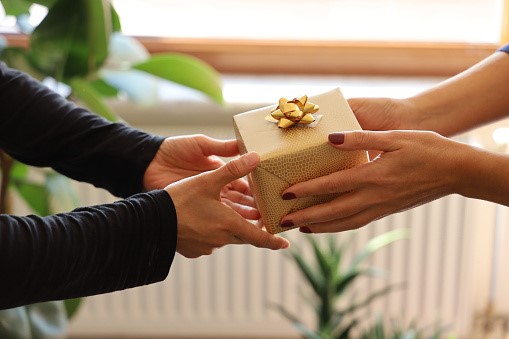 The holiday season is synonymous with family, friends, community, and gathering together. Discussions vary during the holidays from politics and religion to family traditions and recipe secrets! As advocates and members of the blind and visually impaired community, we can leverage this time by educating our spheres of influence and create more spaces that are inclusive for people with disabilities simply by having intentional conversations.
People tend to receive and retain information better when it comes from people they know and trust. Having intentional conversations with our loved ones and close friends about issues that pertain to people who are blind and visually impaired can help to decrease the knowledge gap many people may have about the blind and V/I community.
There will be many opportunities to start dialogue around subjects that directly or indirectly impact marginalized and disabled communities. Here are a few topics that can help get you started:
The Build Back Better Act's impact on people with disabilities in the workforce. This article, Build Back Better Legislation Provides Critical Support for People with Disabilities further explains the benefits of the Act for people with disabilities.  
December is Safe Gifts and Toys month. Talk to your family and friends about the importance of ensuring the gifts they give are age and ability appropriate. Encourage them to pay attention to the recommended age for the gift before purchasing it. It is also beneficial to show the child how to safely use toys that can be dangerous if not done properly.
Recognizing Ablest terms and dialogue. Words have impact. Discuss the importance of understanding what ableism is and words and terms that may contribute to toxic ablest environments.  
Our See Different Team helps to educate communities across the state of Florida by facilitating workshops and conversations similar to the ones listed above. The team's work in this area helps to promote awareness around blindness and V/I in a conversational and friendly way. The workshops plant seeds of awareness that participants can then water on their own and share with others – which helps to create even more spaces that are inclusive along the way!
If you found this information helpful or incorporated any of these conversation starters with your family and friends this holiday season, let us know! Share your experience with us on Facebook or Twitter.
November 2021
Happy Thanksgiving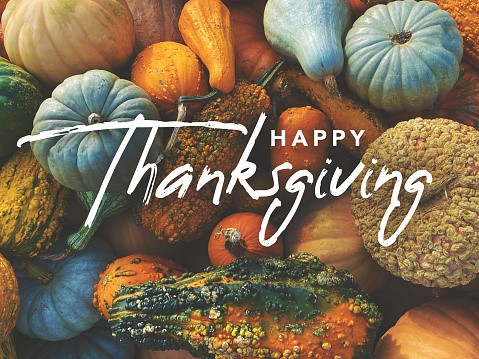 As everyone begins to prepare for the busyness of the holiday season and with Thanksgiving right around the corner, we'd like to take a moment to reflect on all of the pieces of the DBS puzzle and say THANK YOU to those that help fit everything together!
Thank you to our community outreach partners who connect our clients to the best services possible. Because of you our clients are able to receive things like, training in assistive technology that helps to prepare them for the workforce, assistance with their IEPs in school, and orientation and mobility training for an increase in their independence.
Thank you to our employer partners who make it a priority to hire diverse employees based on their abilities and dedication to do the work. Our Employer services gives employers the tools and resources they need to accommodate their applicants and eventually their new-hires that may require additional accommodations.
Thank you to our team members that work day in and day out to help make DBS run smoothly all across the state to ensure Floridians who need our services and assistance are able to receive them. Each one of our district offices, including our Rehab Center and Braille and Talking Books Library, work diligently to serve our clients in the best ways possible.
No amount of support goes unnoticed or unappreciated and that is why we wanted to take the time to say thank you and wish you all a wonderful and happy Thanksgiving!
Rehabilitation Center Name Change
The Rehabilitation Center for the Blind and Visually Impaired has positively impacted many blind and visually impaired individuals served by the Division of the Blind Services. We are fortunate to play such a vitally important role in helping individuals with visual impairments reach their goal of employment, entrepreneurship, and independence. While we're proud of the achievements we've made so far, we will never stop striving for excellence in service provision towards far-reaching and long-lasting success of our customers.
The name "Rehabilitation Center for the Blind and Visually Impaired" doesn't fully reflect who we are or provide insight into what we do. The center offers some of the following:
Career and Technology Training;
Entrepreneurship Training;
Work Experience Opportunities;
Assistive Technology Training;
Adjustment to Blindness; and
Independent Living Instruction.
That's why WE'RE CHANGING OUR NAME and we invite you to join us in the process. For the next few weeks, we are soliciting your feedback and recommendations on the Center's new name. You are welcome to submit your recommendation from November 10 through November 26, 2021.
Not sure where to start? The following suggestions may help:
Career and Technology Center for the Blind and Visually Impaired
Technology, Adjustment, and Career Training (TACT) Center for the Blind and Visually Impaired
Keep in mind that the center is designed to do the following as written in 413.011 (3)(e) Florida statutes:
Establish, equip, and maintain an orientation and adjustment center or centers to provide independent living skills training and other training such as, but not limited to, instruction in braille; use of the long white cane for independent travel; homemaking and home-management skills; and communication skills, including the use of computer technology, to prepare individuals who are blind or visually impaired for eventual vocational training, job placement, and independence.
We look forward to seeing your creative suggestions.
Name Change Challenge Timeline:
Entry submissions: Wednesday 11/10/2021 through Friday 11/26/2021
Presentation of submissions: Monday 11/29/2021
Voting window for submissions: Monday 11/29/2021 through Friday 12/10/2021
Presentation of submissions with the most votes (top 5): Monday 12/13/2021
Voting window for top 5 submissions (final vote): Monday 12/13/2021 through Thursday 12/30/2021
Announcement of new name: TBD
Jason Bracy – An American Football Story
Jason Bracy is a 15-year-old high school starting quarterback who lost his vision to retinal cancer when he was 7 years old – a battle he had been fighting since he was a toddler. This did not deter him from trying different sports and activities of interest to him.
The game that stuck with him was football. Once he fell in love with the sport, he had no plans of turning back! "There's no limits, and if there's something in the way, I'll find out how to get around it or over it. I'll find a way to achieve my goal in the best way possible." Jason said.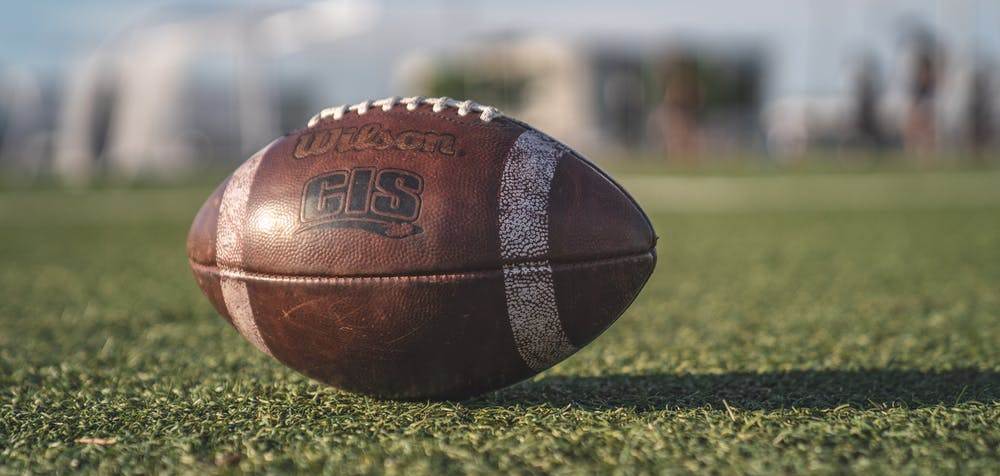 His family was a little hesitant with allowing him to pursue the high-contact sport, but Jason advocated for himself, began searching all around the city for a team that would allow him to play, and eventually his parents were on board, too. He landed a spot with the Modesto Raiders and his journey began to prove to everyone that he could make this dream happen.
How does he do it? He memorizes his team's entire playbook; listens for ques on the field and through his walkie-talkie system he shares with his dad who feeds him information during a game; he trusts his teammates and couches, but most importantly – he trusts and believes in himself.
His dream is to play in the NFL one day and by the way it's looking – he's on the right path to do so!
Check out these other stories on Jason Bracy:
He lost his vision at 7, but went on to become a starting quarterback | WKRC (local12.com)
Blind Youth Football Player In Modesto Scores Touchdown In Team's Win – CBS Sacramento (cbslocal.com)
October 2021
White Cane Awareness Day 2021
On October 15, the Florida Department of Education, Florida Division of Blind Services (DBS) and the rest of the nation celebrated White Cane Awareness Day, also known as White Cane Safety Day. This day was first celebrated in 1964 as a way of highlighting the valuable role the white cane serves in the lives of those who are blind or visually impaired.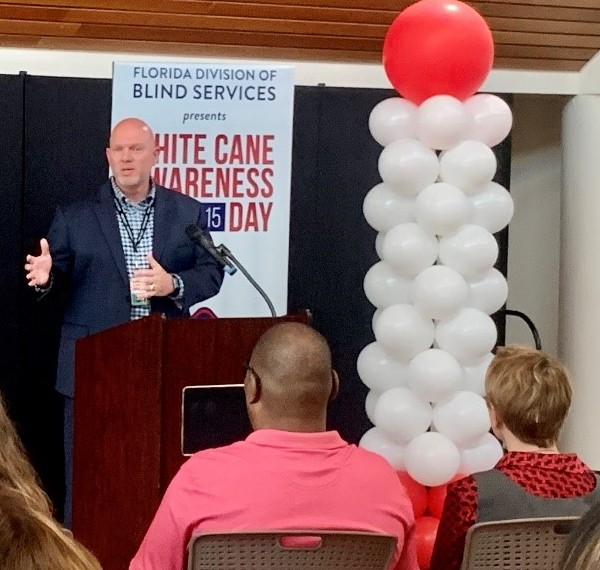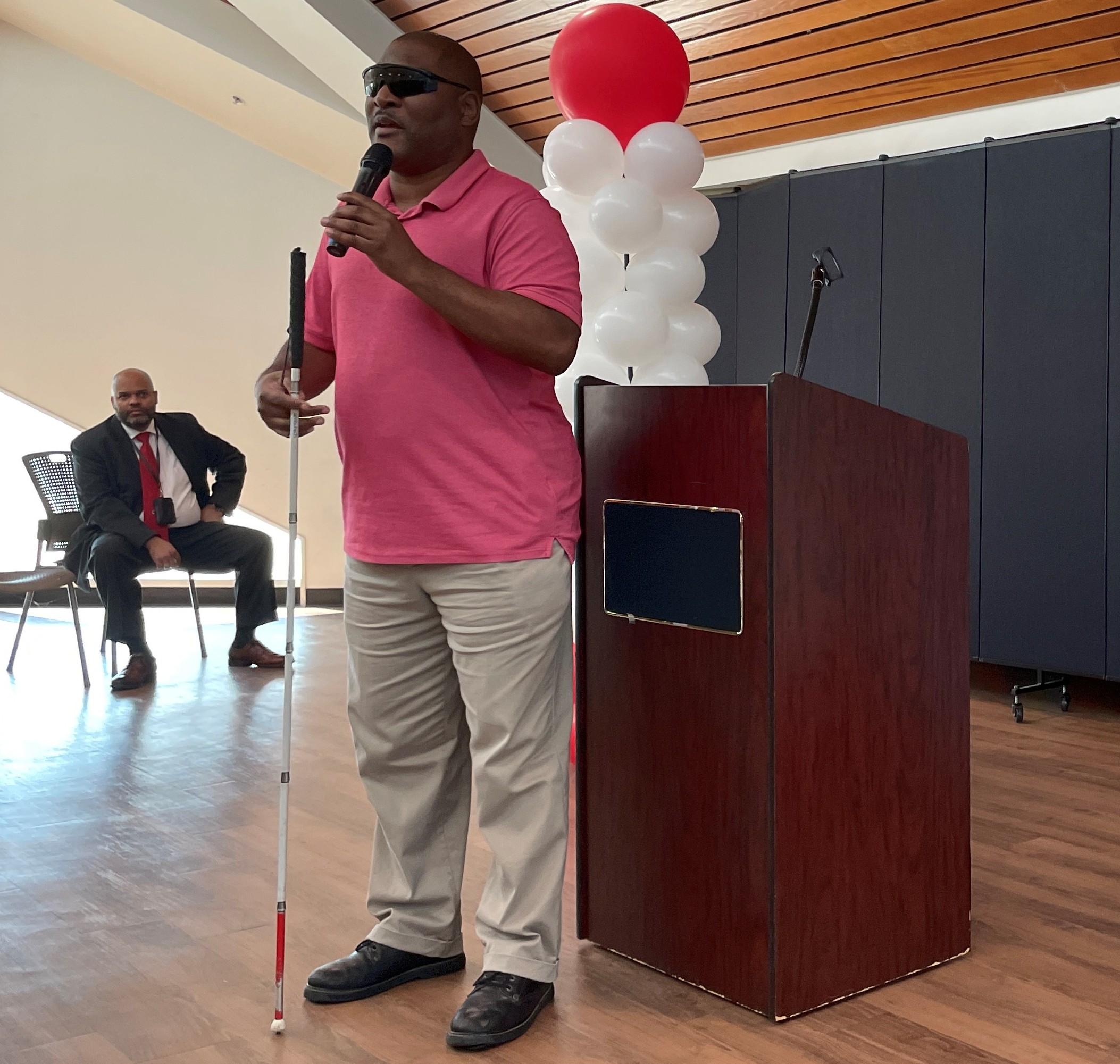 To honor White Cane Awareness Day, DBS hosted a public, in-person event in the Turlington Building Café that was also shared virtually through Facebook Live for those who couldn't attend. Participants learned about Florida's White Cane Law (created to protect blind or visually impaired travelers as well as other pedestrians and motorists) and heard firsthand testimonies from blind white cane users, Lynda Jones and Norris Costner, about their daily experiences.
"It's important to us that blind and visually impaired persons in Florida are able to achieve and succeed in every way possible. The white cane has enabled this goal to be possible, it is a symbol of independence and we are glad to celebrate this important tool, each day" says Florida Division of Blind Services Director Robert Doyle. Additionally, Senior Chancellor Eric Hall shared, "Education is the foundation and the ultimate gateway to opportunity and long-term success. Knowledge and awareness of white cane laws and practices that help to protect white cane users and guide dog users across our state help to ensure that all Floridians have the freedom and access to pursue their individual goals and dreams in a state that prioritizes safety for all."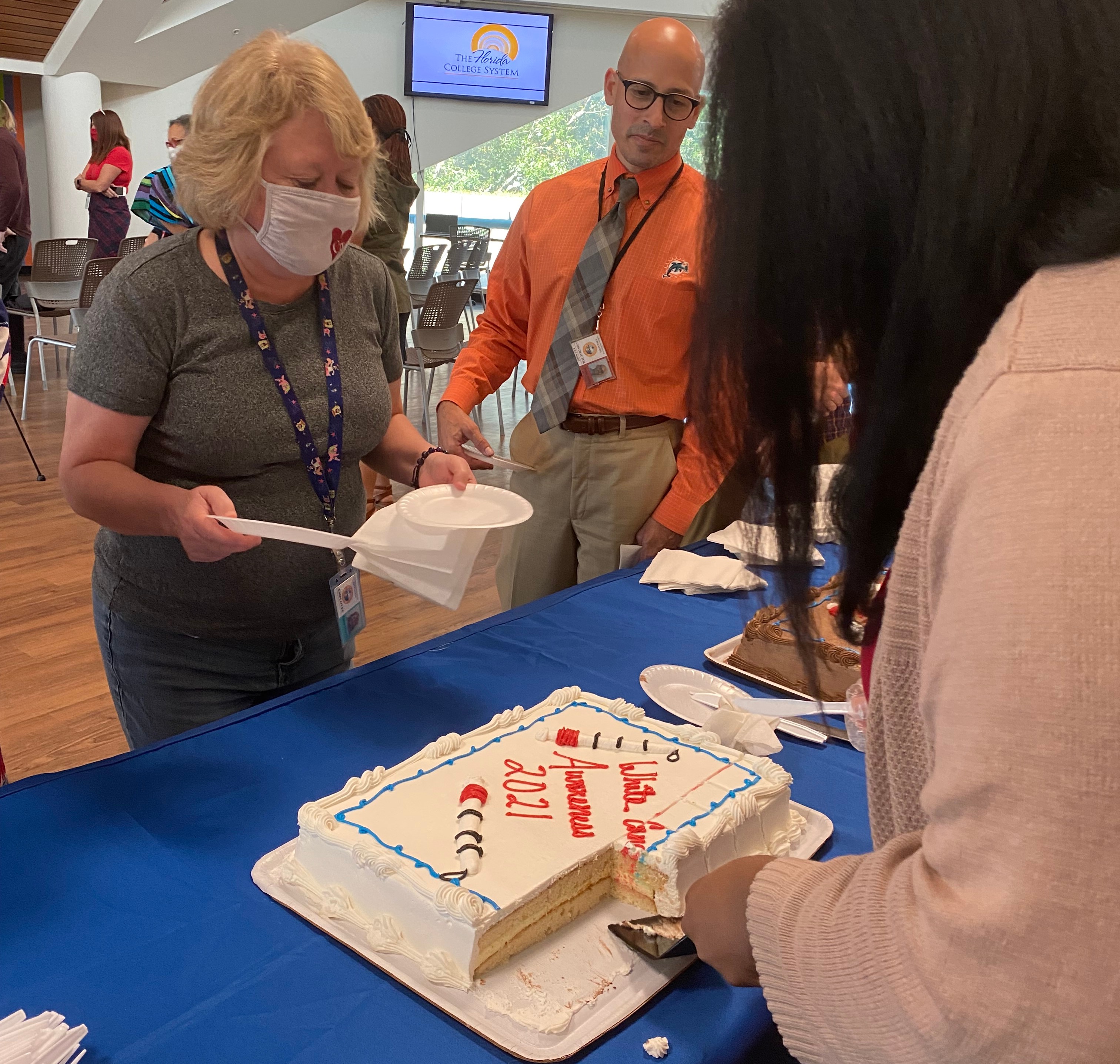 After the event, guests shared with the DBS team how much they enjoyed the presentation. Many pointing out how little they knew about the White Cane Law prior to attending the event and all that they were able to take away from it and share with others.
DBS is dedicated to ensuring blind and visually impaired Floridians have the tools, support and opportunities to achieve success and the division works devotedly to help create a barrier free environment in the lives of Floridians with visual disabilities. This includes the ability to travel safely and independently across Florida's highways and roadways to work, school and in their communities.
This event was a true reflection of what the division strives to do on a daily basis: educate and promote awareness to the community as well as celebrate the blind and visually impaired within our communities.
DOT – DBS – TPD Pedestrian Safety Event
On October 12, the Florida Division of Blind Services joined the Florida Department of Transportation (FDOT) and the Tallahassee Police Department (TPD) in a pedestrian safety event highlighting some of the anticipated changes the City of Tallahassee will be implementing to make traveling safer. Safety is a priority for each department represented. Every citizen is encouraged to help increase pedestrian and driver safety by abiding by laws that protect drivers and pedestrians – like the White Cane Law. Here are some of the ways FDOT is working to make the city streets safer for everyone.

Installing accessible pedestrian signals and detectable warning surfaces to assist people who are visually impaired identify the walk interval at intersections, whether or not they can hear a vehicles engine.
Implement leading pedestrian intervals, a signal phase that provides pedestrians an opportunity to enter an intersection 3 – 7 seconds before vehicles are given a green light. These intervals provide safer crossing opportunities.
Working towards reducing speed by narrowing lane width, installing speed tables, and other optical treatments.
To stay up to date on advancements in pedestrian safety, follow FDOT on Twitter (MyFDOT). And to stay current on advancements specific to people with blindness or a visual impairment Follow us on Twitter (FLBlindServices) and Facebook (Florida Division of Blind Services).
Understanding the White Cane Law in Florida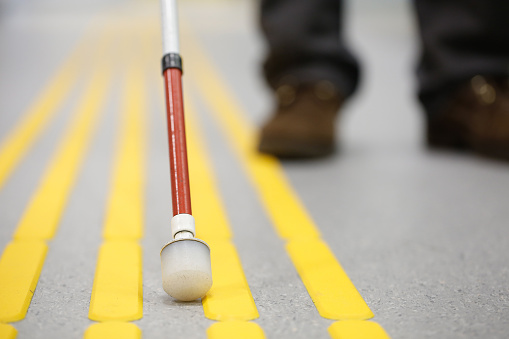 October 15th is national White Cane Awareness Day – an opportunity to emphasize the importance of the white cane and how it represents equality and independence for the blind and visually impaired community. It is also the day where people gather together for demonstrations and events that help to educate others on the white cane law. However, we should recognize and abide by the White Cane Law every single day in order to ensure safety and protection for pedestrians and motorists, too.
The Florida White Cane law requires motorists to bring their vehicle to a complete stop, regardless of right-of-ways, for any persons crossing the street with an extended white cane or traveling with a guide dog. Those that do not abide by the white cane law can be reprimanded and held accountable.
The Florida driver's manual states: "Drivers must always yield the right-of-way to persons who are blind. When a pedestrian is crossing a street or highway guided by a dog or carrying a white cane (or a white cane with a red tip), vehicles must come to a complete stop."
In other words, Brake for the Cane! (and guide dogs, too).
If you want to learn more about the white cane law, visit Chapter 316 Section 1301 - 2012 Florida Statutes - The Florida Senate (flsenate.gov). If you'd like to celebrate White Cane Awareness Day with us, join us on October 15, 2021 at 10:00 AM via Facebook Live where we will have a full line up of testimonials and an entertaining video on traveling independently using a white cane and guide dog! The link to join in the White Cane Awareness Day Celebration can be found on the division's website at: https://dbs.fldoe.org/Information/events/index.html.
September 2021
DBS's Accessibility Team Sheds a Light on Digital Accessibility
The Florida Division of Blind Services Accessibility Team is livening things up with an Accessibility Slogan Contest this month! The Accessibility Team has requested suggestions for a DBS specific accessibility slogan that we'll be able to use on our social media platforms to help us better promote digital accessibility and inclusivity! Speaking of social media – do you follow us on Twitter and Facebook? Our Twitter handle is @FLBlindServices and our Facebook handle is @FloridaBlindServices. We share tons of information and resources on accessibility you won't want to miss.
Once the slogan contest comes to a close, we will share the winning slogan on social media so others can repost and share as well! This year marks the 31st anniversary of the Americans with Disabilities Act of 1990 and although digital accessibility was not explicitly stated and outlined in the act, this contest represents the importance of emphasizing digital accessibility and the gap between resources and the knowledge needed for those who have a direct impact on creating and enforcing it every day.
To learn more about digital accessibility, check out this great resource page by following the link Accessible Documents.
National Disability Voter Registration Week
The American Association of People with Disabilities (AAPD) recognizes the week of September 13, 2021 as National Disability Voter Registration Week. People use this week to host webinars and events that focus on registering voters with disabilities to vote, discussing options for accommodations and bringing more awareness to the disparities in numbers between registered voters with and without a disability.
You can learn more about AAPD and their upcoming events for National Disability Voter Registration Week by clicking the following link https://www.aapd.com/advocacy/voting/national-disability-voter-registration-week/ .
National Guide Dog Month
Some people say dogs are guardian angels on four legs. We agree–especially when it comes to guide dogs! These amazing dogs are trained from the time they are puppies to partner with a blind or visually impaired individual and help them travel safely and with greater independence. September is National Guide Dog month—a time to recognize and honor the important role these wonderful four-legged friends play in the lives of so many blind and visually impaired people.
Cortical Visual Impairment (CVI) Awareness Month
People with cortical visual impairment have vision loss due to an injury or damage to the part of the brain that deals with vision. A mother of a child with CVI explains it as, "Cortical visual impairment is a brain based impairment that affects visual processing. Children with CVI see what we see, but the brain cannot interpret it (Roman). CVI is different from an ocular impairment or blindness. For children with CVI, with early diagnosis, appropriate assessment and intervention (CVI Range, Roman), vision can improve." (You can learn more by visiting the following link September is CVI Awareness Month – Start Seeing CVI)
You can help raise awareness simply by doing research on your own and talking to others about the thing you've learned.
August 2021
Children's Eye Health and Safety & Children's Vision Learning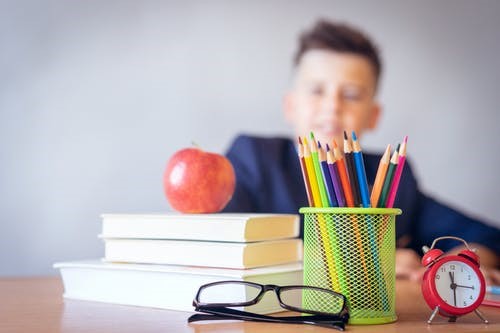 Back to school time is the perfect time to focus on Children's Eye Health, Safety and Vision Learning! Children's eyes are just as important as adults and require proper maintenance and care so that they are able to succeed in their schoolwork and daily activities.
It's important to pay close attention to any noticeable problems with your child's vision – like difficulty reading the white board at the front of their classroom – but other times there are issues only an optometrist can detect. Just like adults, children should receive routine eye exams so preventative measures can be taken if necessary.
Back to school time also brings about extracurricular activities and sports. It's important to ensure your child wears any protective gear and practices safety during physical activities and activities that can cause injury to their eyes.
The children are our future, so let's keep them safe by taking preventive measures to ensure optimal eye health.
July 2021
Assistive Technology, Its Importance & How the Florida Division of Blind Services Provides Access to It
According to Webster, assistive technology (AT) is technology that provides aid or assistance that is specifically designed or intended to assist disabled persons. In every day scenarios, assistive technology allows people with a disability – including visual impairments – opportunities to incorporate full independence and self-direction in their lives.
Without AT it would not be impossible for someone with a visual impairment to travel, read, write, or independently take care of themselves, but it would make it a little bit more challenging. People use AT in their daily activities and for their professional lives as well.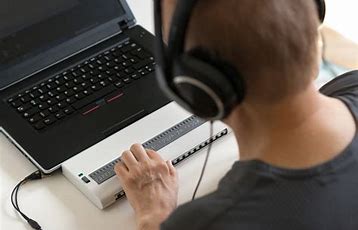 An example of assistive technology is JAWs software designed to read digital screens like phones, tablets and computers, aloud for people who cannot see or have difficulty seeing. Another example would be a text magnifier, a device that enlarges print or other difficult-to-see material for people with low vision. A more common AT is the white cane. Many people might not think of a white cane as assistive technology, but because of how it assists people who are blind or low vision to travel independently, it makes the list.
The Division of Blind Services (DBS) has partnered with Vispero Software (one of the nation's leading assistive technology providers for the visually impaired) to allow every eligible DBS client and community resource partner (CRP) the opportunity to have access to a number of different assistive technologies. DBS is proud to take the lead in being the first government organization in the nation to provide free access to digital assistive technology in this unique way. The partnership increases opportunities for clients and creates a more inclusive digital environment for Floridians with disabilities.
Our other statewide programs like, the Independent Living Program, Transition Program, and the Rehabilitation Center for the Blind, provide services that teach clients how to use assistive technology and gives them access to different types of AT based on their needs and personal and professional needs and goals.
To learn more about how you can become a client and gain access to these services, programs and assistive technology resources, visit us at Florida Division of Blind Services Main Page.
How to Keep Your Eyes Protected from UV Rays and Dry Eyes
Ultraviolet Radiation (UV) Safety
Living in the great state of Florida, being out in the sun is inevitable! But that doesn't mean we can't stay safe and protected from the harmful UV rays the sun gives off. Ultraviolet radiation, ultraviolet light or UV rays for short, can be damaging to living tissue, which means it can cause major damage to our skin and our vision if we don't take the proper precautions when we are out enjoying the sunshine.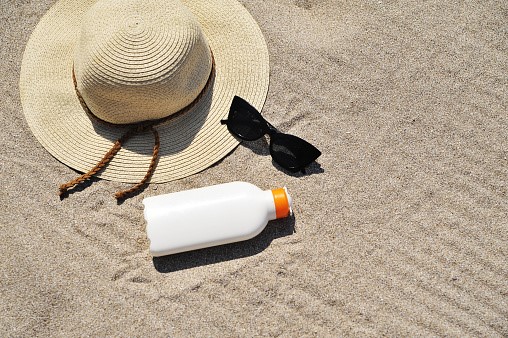 Here are some helpful tips to stay safe not only this summer, but anytime you are outside enjoying the weather!
Wear sunscreen to protect your skin.
Wear a hat with a visor over your eyes to help reduce exposure.
Wear UV light protective sunglasses to block out the sun.
And, of course, keep up with your annual eye exams to stay ahead of any changes in your vision.
What are some ways you protect your eyes from UV rays? Share them with us on Facebook and Twitter!
Dry Eye Help
If you've ever experienced dry eyes, you'll know why it's so important to address it quickly. Our eyes are made of three different layers of film; fatty oils, aqueous fluid, and mucus. Dry eye occurs when one of these layers is not producing enough around your eye causing your eye(s) to feel discomfort. This is actually a very common condition that can occur to anyone for many different reasons including, age or certain medications.
Here are some of the symptoms associated with dry eye according to the American Academy of Ophthalmology:
You feel like your eyes are stinging and burning.
Blurred vision, especially when reading.
There is a scratchy or gritty feeling like something is in your eye.
There are strings of mucus in or around your eyes.
Your eyes are red or irritated. This is especially true when you are in the wind or near cigarette smoke.
It is painful to wear contact lenses.
When you are experiencing dry eye, you can apply over the counter eye drops to help your eyes form tears and help with lubrication, use a warm compress over your eyelids, or gently rub and rest your eyes. You should see an eye doctor if this condition occurs on a consistent basis and if over the counter artificial tears are no longer helpful.
June 2021
Audiobook Awareness Month
Did you know that in 1932 The American Foundation for the Blind developed one of the first forms of audiobooks? They used recording studios to voice record content from printed books on vinyl so that people with visual impairments or blindness could have better access to reading material and written resources. Of course, technology has advanced substantially since 1932 and people can now enjoy audiobooks on almost all of their smart devices!
Our Braille and Talking Books Library offers books and resources in a number of different formats including audiobooks. The Library recently extended services to people with disabilities other than visual impairment and blindness. To learn more about the Library and to apply for services, visit Florida Division of Blind Services.
Cataract Awareness Month
Cataracts affects millions of Americans annually. This condition is typically found in older adults as a direct result of aging. Fortunately, this condition can be treated and corrected. A cataract is a clouding in the optical lens that limits light entering into the eye and causing blurred vision.
There are multiple forms of cataracts that can develop in different regions of the eye and cause various symptoms. With regular eye exams, an ophthalmologist can determine in enough time if a cataract is forming on the eyes and take preventive measures – saving the eye's vision. Cataract surgery can be performed to completely remove the cataract if it has fully developed on the eye.
DeafBlind Awareness Week
In honor of Helen Keller's birthday on June 27, we celebrate Deaf Blind Awareness for the entire last week of June! Helen Keller was a deaf blind advocate, author, and a civil rights activist. Her contributions to the blind and deafblind community continue to impact people today.
Nystagmus Awareness Day (June 27)
Nystagmus is an eye condition when someone's eyes move rapidly uncontrollably. There are many different causes of nystagmus and an ophthalmologist should diagnose this condition. There is currently no cure for nystagmus, but some conditions can see improvement with contact lenses or glasses.
You can celebrate all of June's observances by learning more about eye health statistics and bringing awareness to them in your personal sphere of influence. Here are some easy ways to share information with your family, friends, and coworkers:
Post the link to this article on your Twitter page so people can learn more about June's Eye Health observances
Join a group related to eye health on Facebook and learn about the topics they bring to light
Share a picture of yourself with your eye doctor at your annual eye exam on Instagram with one of these hashtags: #DeafBlindAwareness #CataractAwarenessMonth  #NystagmusDay #NystagmusAwarenessDay #HelenKeller #AudioBookAwarenessMonth #AudioBooks #AnnualEyeExam
May 2021
Healthy Vision Month
May was declared Healthy Vision month in part to bring awareness to the importance of taking proper care of our vision. A large percentage of blindness is preventable. Here are some useful tips to maintain healthy vision:
Keep up with regular eye exams,
Report eye concerns immediately to your doctor,
Reduce screen time,
Take regular breaks for long durations of screen time,
Maintain a healthy diet,
Be aware of your families health history to stay in front of any genetic diseases 
Global Accessibility Awareness Day (GAAD) – May 20
Technology is all around us. Almost everything is going, or has already gone digital. In order to ensure no one is excluded and everyone is represented in the digital arena, global accessibility awareness day was established to bring attention to the necessity of inclusion and accessibility on the web, social platforms and in new technology.
You can celebrate all of May's observances by learning more about eye health statistics and bringing awareness to them in your personal sphere of influence. Here are some easy ways to share information with your family, friends, and coworkers:
Post the link to this article on your Twitter page so people can learn more about May's Eye Health observances
Join a group related to eye health on Facebook and learn about the topics they bring to light
Share a picture of yourself with your eye doctor at your annual eye exam on Instagram with one of these hashtags: #HealthyVision #HealthyVisionMonth #GlobalAccessibilityAwarenessDay #GAAD #AnnualEyeExam
Summer Programs for Visual Impaired/Blind Students in Florida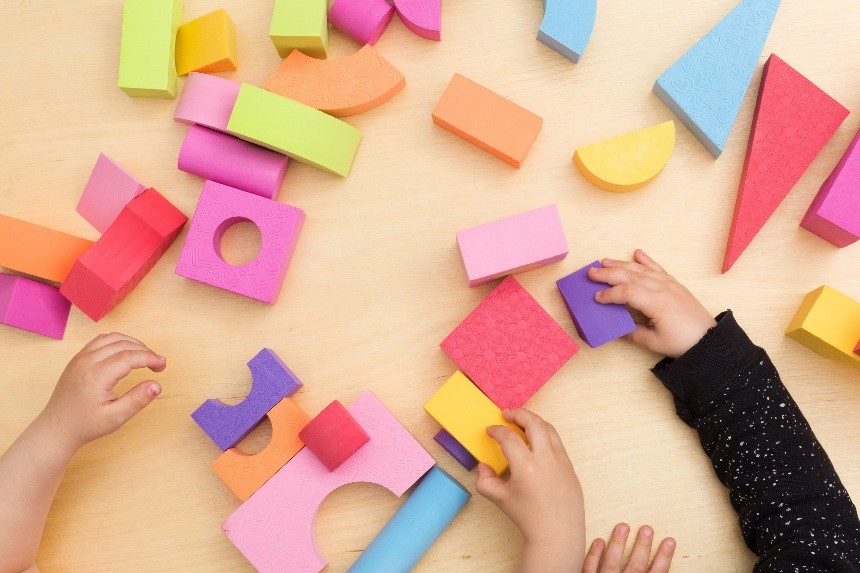 The 2020-21 school year is coming to a close and Summer is almost here! This means you are probably in the process of deciding what you're going to do during this time and where you will send your kids for the upcoming weeks.
Here's some more good news: We've done the hard part for you! We've compiled a list of summer camps, programs and activity options for your child(ren) with VI/blindness to participate in during their break. A number of the items listed below accommodate children with other disabilities as well.
Check out what we've found and don't forget to share them with other parents or caretakers who can benefit from them.
*Programs are not listed in any particular order and descriptions are taken directly from program websites.
Leader Dogs for the Blind Virtual Summer Experience Camp
Teens 14-17 years old in the U.S. and Canada can expect an awesome lineup of virtual activities. Just like our traditional camp we will be exploring mobility options like guide dog travel, building leadership skills and developing relationships with peers. Zoom will be used as our conferencing platform for two 1-hour virtual sessions each day, at 12 p.m. and 3 p.m., Eastern Standard Time. Teens can look forward to a Q&A session with a guide dog mobility instructor, a game session, and lots more! Presenters will include orientation and mobility instructors, guide dog mobility instructors, and some special surprise guests as well. Follow this link to learn more: https://www.leaderdog.org/programs/virtual-summer-experience-camp/
Miami Lighthouse Children's Summer Camp
Summer camp promises to be a fun seven weeks designed to support literacy, physical fitness, and social skills by integrating the expanded core curriculum and evidence-based literacy programs. Opportunities for camp include an early intervention based camp for children with visual impairments ages 1-4 and a school aged camp for children with visual impairments and their siblings in Kindergarten through 5th grade. Follow this link to learn more: Miami Lighthouse for the Blind
Tampa Lighthouse
Summer Transition includes five-weeks of training in daily living skills, a work experience, and recreational activities Monday through Friday from 9:00 a.m. to 3:00 p.m. This program, implemented in 2002, for blind and visually impaired teens, prepares them for the responsibilities of adulthood by focusing on job readiness, social interaction, and independent living skills. An integral part of this program involves hands-on work experiences at local businesses. Follow this link to learn more: Transition for Teens - Lighthouse for the Blind & Low Vision (lighthouseblv.org)
Virtual ECC Interactive Summer Learning Series
The Florida School for the Deaf and the Blind (FSDB) is excited to continue our Virtual Expanded Core Curriculum (ECC) Interactive Summer Learning Series for children ages 6-13 who are deaf/hard of hearing (D/HH) or blind/visually impaired (B/VI).
The virtual ECC series is available at no cost and all registered children will receive materials delivered to their homes for participation via live conferencing and engaging online classroom activities. Follow this link to learn more: Summer Programs | FSDB (fsdbk12.org)
Center for the Visually Impaired of Central Florida STEPS Program
Activities are scheduled for Mondays, Wednesdays and Fridays. Includes a visit to the Talking Book Library linked to the books on the school summer reading list and other fun, interactive field trips.
Parents are responsible for bringing their child to CVI's office and picking them up after an activity. CVI provides transportation from our facility to field trip destinations. Follow this link to learn more: STEPS Program | Center for the Visually Impaired (cvicentralflorida.org)
Special Touch
Due to COVID-19, overnight camps will not be held this year. Instead, we're offering a few Summer Get Away Day Camp events! Open to our entire Special Touch family including prior staff, guests and new friends, these fun-filled events are a safe alternative for us to Get Away and Get Together with our friends – WE'VE MISSED YOU! ONLINE REGISTRATION IS EASY AND REQUIRED FOR any person attending any location. Follow this link to learn more: 2021 Summer Events & Registration | Special Touch Ministry, Inc.
Easterseals Florida
Camp Challenge provides a unique experience for children over 6 years of age and adults of any age with disabilities and special needs to have the opportunity to actively participate in camping activities, engage in social interaction with peers, and achieve life-changing experiences. From campfires to hiking on the nature trail to climbing the high ropes course, campers engage in a variety of enriching outdoor activities in a natural Florida setting. Follow this link to learn more: Easterseals Florida | Camp Challenge
Great Heights Academy
Great Heights Academy is a fun and exciting place for children with special needs to go and feel accepted by their peers no matter their disability. We offer a 9 week summer program for campers 4-22 years of age filled with structured activities that are supervised by our highly qualified trained staff. Every week campers are introduced to a new theme which guides their activities and field trips. We offer an exceptional curriculum incorporating academics and traditional camp activities. We focus on building friendships and encourage our campers to embrace and learn new skills and experiences which they can build upon. Development of the whole child is our goal. We work hard at improving the daily living, social, and life skills of our campers, while giving them the happiest summer of their lives!
Follow this link to learn more: SUMMER CAMP | ghacademy (greatheightsacademy.com)
Foundation for Dreams
Our unique programs focus on each child's abilities and are specifically designed to strengthen their social skills, behavioral skills, and comprehensive profound skillset in a safe, barrier-free environment. Our staff are dedicated to planning and modifying strategies for each session to include the participation of all, regardless of physical, medical, or emotional challenges.
As a child attends our program, parents collaborate with staff to identify two targeted goals for the child to progress towards while at camp. By focusing on each child's strengths and abilities, staff members help facilitate a child's development by integrating their individualized goals into our daily schedule of unique camp activities. Because of our high caliber staff training and low camper to staff ratios of 3:1 or better, each child is able to receive a high level of individualized care and support, so that they are able to engage in adaptive camp activities, learn new skills and develop productive behaviors while having a blast. Follow this link to learn more: Campers - Foundation For Dreams | Dream Oaks Camp
Activities
Didn't see an activity, camp or program that you believe should be included? Email communications.dbs@fldoe.org with information and a direct link so we can add it to our list!
April 2021
Time To Be Bold
Time To Be Bold is a national public service awareness campaign through the Independent Living Older Individuals who are Blind Technical Assistance Center at the National Research and Training Center on Blindness and Low Vision. The OIB-TAC and this campaign are funded by the Dept. of Education Rehabilitation Services Administration, which also funds services and training for individuals with visual impairments, including vocational rehabilitation (VR) and the Independent Living Older Individuals who are Blind (OIB) programs nationally.
The TimeToBeBold campaign is designed to educate, engage and empower people who are 55+ with low vision to maintain/regain their independence by utilizing the free or low-cost services provided by the RSA-funded OIB programs.
Over 3 million Americans 55 and older have difficulty seeing even when wearing glasses.
Almost 1 in 10 individuals age 75 or older reports difficulty seeing, even when wearing glasses.
Each U.S. state and territory offers free or low-cost services to help individuals adjust to vision loss.
It is estimated that less than 5% of individuals with vision loss, who are eligible for services seek them each year.
It can be challenging to find services, which is one major reason we created this campaign.
Go to timetobebold.org for a list of free or low-cost services in your state that will give you the tools, technology, training, and support you need to live your bold, best life.
https://msstate.instructuremedia.com/embed/6e003ba8-3c8a-4fa9-adcc-ff605feb5abb
Women's Eye Health and Safety Month
Women are at a higher risk of eye disease and eye related health issues. According to the University of Utah, two-thirds of blindness and visual impairments occur in women. Since women statistically live longer than men, they are also at a higher risk of other eye diseases related to an increase in age. Because of this, it is especially important for women to pay close attention to any changes in their vision and eyes and keep up with their annual eye exams.
Here are some preventative measures women can take to protect their eye health:
Maintain a healthy diet
Don't smoke
Wear sunglasses when you're outside for long periods of time
Keep up with your annual eye exam
Sports Eye Safety Month
Who doesn't love playing a good game of baseball or racquetball? Although many of us love a good outdoor or indoor sport, those that play it must remember to remain safe while doing so. Because of some of the equipment used and or the high physical contact of the sport, participants are put at a higher risk for an eye injury.
In order to remain safe and avoid hazardous interactions, people partaking in sports and physical activities should wear the proper equipment associated with it and report any issues or discomfort in their eyes immediately to their eye doctor if involved in an incident.
The good news about sports eye injury is that most are highly preventable as long as the activity is played properly and any necessary gear is worn correctly.
Sports that can cause eye injuries (from high risk to low risk):
Basketball
Water Sports
Baseball
Racquet Sports
Cortical Visual Impairment (CVI) Literacy Awareness Month
What is CVI? CVI stands for cortical visual impairment. CVI is an impairment that can occur to an individual because of a brain injury. CVI literacy awareness has been established to help bring attention to the importance of the different methods required in reading and writing for children with CVI.
Here are a few organizations that can be used as resources to CVI and CVI literacy.
You can celebrate all of April's observances by learning more about eye health statistics and bringing awareness to them in your personal sphere of influence. Here are some easy ways to share information with your family, friends, and coworkers:
Post the link to this article on your Twitter page so people can learn more about April's Eye Health observances
Join a group related to eye health on Facebook and learn about the topics they bring to light
Share a picture of yourself with your eye doctor at your annual eye exam on Instagram with one of these hashtags: #WomensEyeHealth #WomensEyeHealthAndSafety #SportsEyeSafety #CVILiteracyAwareness #AnnualEyeExam
March 2021
Host the See Different Team
In 2015, the Florida Division of Blind Services saw a need for dispelling misconceptions and motivating people to change their perceptions toward blindness. In an effort to satisfy this need in the community, the See Different Initiative was born. The founding members of the team were Adam Gaffney, David Darm and Walter Blackmon, and the mission of the group was to create educational, entertaining and interactive workshops towards breaking down barriers caused by confusion, fear and a lack of firsthand knowledge and motivating people to change their perceptions toward blindness.
In 2020, the COVID-19 pandemic stopped a lot of things – but the See Different Team's mission hasn't been one. The team quickly and efficiently transitioned into virtual forums and events to continue their work of helping others "See Different" about people who are blind or visually impaired in communities all across Florida.
The team is accepting engagements through the rest of the year and invite you and your organization to be a part of this exciting experience! Here are some things the Team can bring to your event or group:
Simulated experiences (modified for virtual events)
Assistive tools and technology demonstrations
Personal testimonials about living with a visual disability
Education on service animals and the white cane
Adaptive sporting and recreational activities (modified for virtual events)
Question and Answer sessions about anything blindness related
There are a variety of groups that can benefit from participating in these forums, including:
K-12 Classes
Small businesses & large corporations
College and university programs
Faith-based groups
State and local governmental organizations.
By helping more people in the community to "See Different," the Team creates more opportunities for individuals who are blind and visually impaired to Live, Learn, Work, Play, and Succeed alongside their sighted peers. To learn more about what the See Different Team can bring to your upcoming event, email seedifferent@dbs.fldoe.org for more information and to schedule an event!
Save Your Vision Month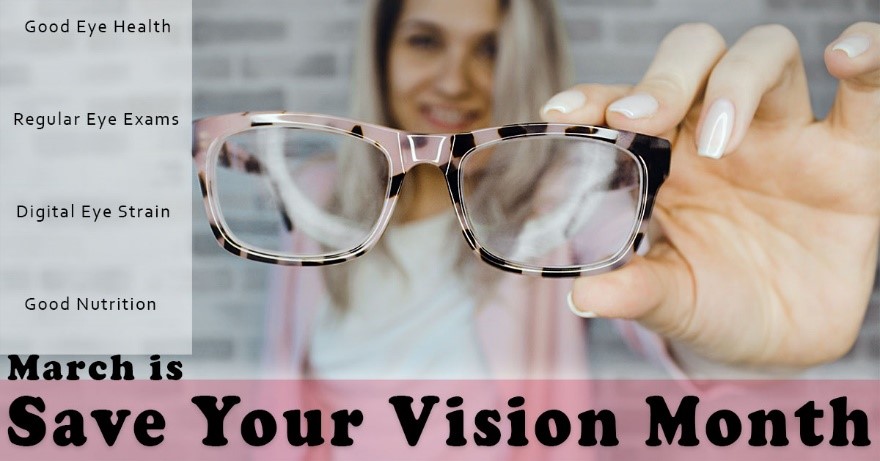 In 1963, President Lyndon B. Johnson declared March as national Save Your Vision month. Since then, optometrists, ophthalmologist, and other eye health care professional's efforts to bring awareness to preserving vision through eye care safety, regular eye exams, good nutrition, etc. are emphasized during this month.
Workplace Eye Safety Awareness Month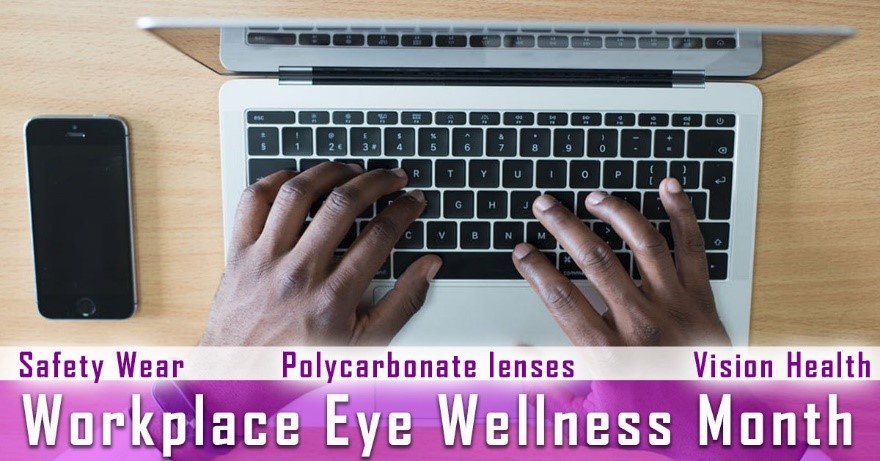 Did you know, according to the Center for Disease Control and Prevention, nearly 2,000 U.S. workers every year sustain a job-related eye injury that requires medical treatment? Most people associate eye injuries with professions like construction, mechanics or other similar fields that use potentially dangerous tools and chemicals. However, people that work in office settings can also injure their eyes through complications related to looking at a computer screen for 7+ hours a day.
Always wear protective equipment when you are at work around potentially dangerous equipment and products. Periodically rest your eyes (by looking at a wall or closing them) to prevent eyestrain when working on the computer for long periods of time.
To be safe regardless of your profession, stay up to date on your annual exams and report any changes in vision to your doctor.
World Optometry Day (March 23)
When is the last time you thanked your optometrist? If you can't recall how long it's been, March 23rd is the perfect day to do so on World Optometry Day!
Many people get optometrists and ophthalmologists confused with one another but there are distinct differences in the two types of eye specialists – one of those distinctions being that optometrists aren't required to have a medical degree (M.D.), but rather a doctor of optometry (D.O.)!
To learn more about optometrists and the differences between them and ophthalmologists, check out this article from the VeryWellHealth.com.
You can celebrate all of March's observances by learning more about eye health statistics and bringing awareness to them in your personal sphere of influence. Here are some easy ways to share information with your family, friends, and coworkers:
Post the link to this article on your Twitter page so people can learn more about March's Eye Health observances
Join a group related to eye health on Facebook and learn about the topics they bring to light
Share a picture of yourself with your eye doctor at your annual eye exam on Instagram with one of these hashtags: #FLDivisionofBlindServices #AnnualEyeExam #EyeHealthAwareness #MarchIsSaveYourVisionMonth #WorkPlaceEyeSafety #WorldO
February 2021
Career and Technical Education (CTE) Month

There are many paths to successful, lucrative careers. The CTE route is an alternative to what's considered "the traditional option" for post-secondary education. The newest initiative for workforce education will help Floridians Get There by providing opportunity and resources to technical education options all across the state.
To learn more about the Get There initiative, visit https://gettherefl.com/.
Age-Related Macular Degeneration (AMD) & Low Vision Awareness Month

According to the Centers for Disease Control and Prevention (CDC), age-related macular degeneration (AMD) is a major cause of blindness worldwide and leading cause of low vision for Americans over the age of 65. Low vision is defined as a visual impairment that cannot be corrected by treatments such as surgery, glasses, or prescription medicines.
Here are some things you should know about AMD and low vision:
AMD can be categorized as either wet or dry; wet is the more damaging form of the disease
Family medical history can help you determine if you have a higher risk of AMD
AMD is one of the leading causes of low vision
Getting regular eye exams is a preventive measure you can take to catch it in time and get the types of treatments that will slow the progression.
To learn more about AMD and Low Vision, visit CDC.gov. 
DBS Celebrates Black History Month
The Division of Blind Services (DBS) is happy to recognize and celebrate Black history month! Influential people in history come in all shapes, sizes, colors and of course – abilities. There are countless visually impaired and blind African Americans that have helped shape the course of our history. Here are just a few of them!
Ray Charles
Ray Charles was born Ray Charles Robinson on September 23, 1930, in Greenville, Florida. When he was 7 years old he lost all of his vision to glaucoma and learned how to live independently with help from his mother and teachers at the Florida School for the Deaf and Blind in St. Augustine.
Charles became one of the first black musicians to have primary artistic control over his music when he signed with ABC Records in 1950. His music has made history and is well known all around the world. 
Harriet Tubman
Many have heard of Harriet Tubman, but few know that through her courageous acts she also battled with a brain injury and a visual impairment she got from a blow to the head she received from one of her former slave owners.
Other free and enslaved African Americans affectionately knew her as Moses because she risked her life to help lead a record number of slaves in the south to freedom. Her disabilities did not define, nor stopped her from becoming one of the most important "conductors" of the Underground Railroad.
Thomas "Blind Tom" Wiggins
Thomas "Blind Tom" Wiggins, was born in 1849 on a Georgia plantation. His original slave owners believed he was worthless and would not be able to work because of his blindness and autism. He and his family were sold to new owners who discovered Tom had a gift of imitation through music.
Tom was hired out as early as the age of 9 to play the piano for his slave owners in the city. He became popular due to his ability to imitate any piece of music he heard. At one point in his life, he even went to Europe and met some influential composers and musicians. Tom played the piano until his passing at the age of 59.
Dr. Laurence C. Jones
Dr. Laurence C. Jones was an advocate and educator for blind and visually impaired African American students. He helped to establish the Mississippi Blind School for Negroes at Piney Woods – the school he established for the rural black community in that area. Jones and Martha Louise Foxx – the first teacher and principal of the Mississippi Blind School, were the first to establish a school like that of its kind.
Haben Girma
Haben Girma was born completely blind and deaf to parents who were new to raising a child with disabilities. Through their nurturing, and Girma's desire to become all that she can be – she became the first Deafblind person to graduate from Harvard Law school. She is an author, public speaker, disabilities rights advocate and practices law in the state of California.
January 2021
The Division of Blind Services Florida Employer and Employee Support
The Florida Division of Blind Services (DBS) helps blind and visually impaired individuals achieve their goals and live their lives with as much independence and self-direction as possible. DBS has 15 district and satellite offices that partner with local Community Rehabilitation Programs (CRP). Together they offer a number of programs and services for eligible clients who have a medically diagnosed visual impairment and/or blindness. Here are a couple of DBS's most popular employment programs:
Vocational Rehabilitation Program: This program assists an individual in achieving or maintaining an employment outcome that is consistent with his/her unique strengths, resources, priorities, concerns, abilities, capabilities, interests and informed choices.
Business Enterprise Program (BEP): The Florida Business Enterprise Program (BEP) administers one of the largest vending and food service programs operated by people who are legally blind in the United States. Everything the individual needs to get started running their own food service facility is provided, including training, facility, equipment, inventory, and the necessary funds to begin operations.
---
DBS is also proud to assist employers who are looking for ways to support their employees with disabilities. DBS offers a variety of opportunities for employers and employees with visual disabilities as they work collaboratively to maintain the best employment relationship possible.
Here are some of the services DBS can provide to employers:
Immediate and appropriate candidate referrals that will save you time and recruiting costs.
Follow-up support services that demonstrate a commitment from DBS to ensure long-term support and a safe hiring decision for your company or organization.
Professional support and technical services that ensure a smooth training period as the DBS team works to maintain your production numbers and meet your timelines.
On the job training services that will save you time and the cost of training a new employee.
To learn more about opportunities available for your organization, please contact your local DBS office.