The Library in Pictures

Welcome to the Florida Bureau of Braille and Talking Book Library! We are proud to be the regional library of Florida for the National Library Service for the Blind and Print Disabled (NLS). NLS supplies our digital books and Braille books, as well as the talking book machines for all eligible persons who cannot use a standard print book.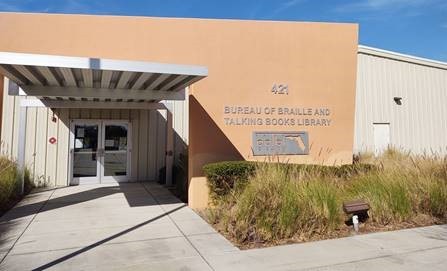 Our Reader Advisors (RAs) answer calls and fill requests for our active library patrons, and many more who are in nursing homes and other facilities. Requests come in by telephone, by postal mail, and by email. Patrons can sign up to have the circulation system automatically select their titles for them based on subjects or authors, and select from daily, weekly, or monthly delivery options. Most patrons request specific books and our RAs handle hundreds of calls, emails, and letters per day. There is no cost for postage as we operate using "Free Matter for the Blind" by the US Post Office.

We have a large volunteer area. They help sort and inspect incoming books, label publicity materials, and help us produce our bureau wide newsletter which is also available on our website in English and Spanish audio, as well as Braille.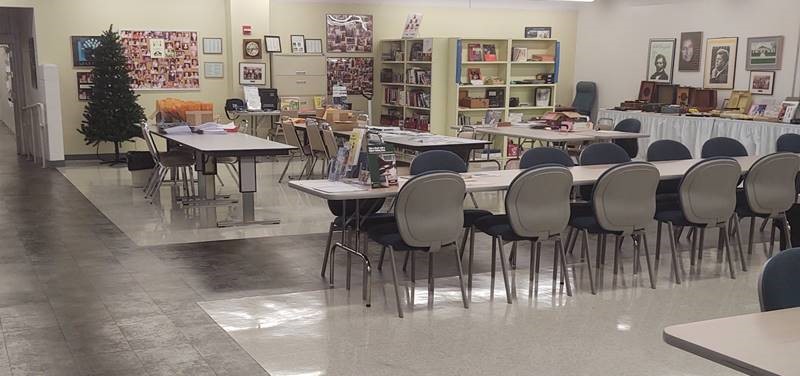 Patrons who have a talking book player can also access digital books or a flash drive of downloaded materials. In this machine repair area, we also send out other equipment related to the digital talking book player like headphones, remote control players for those confined to bed, and flash drive adapters.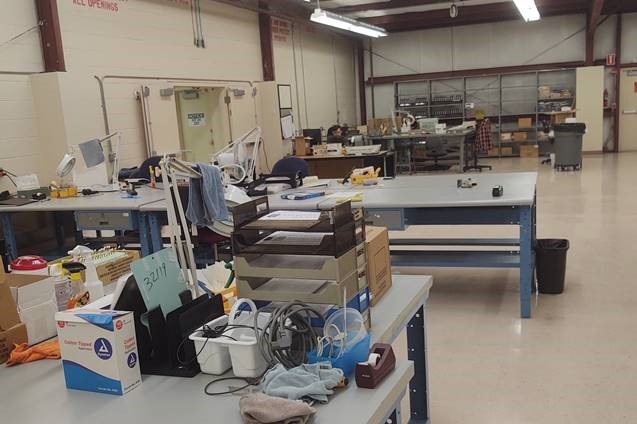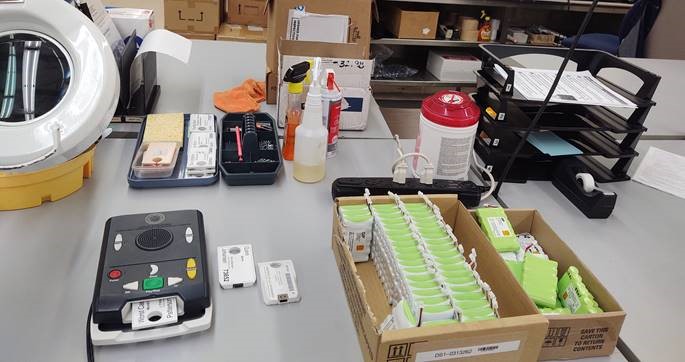 This area is next to our Braille shelving. With over 22,000 titles, this movable shelving is critical to being able to house all of the collection. Many titles have multiple volumes. So, we have a total of almost 50,000 individual items!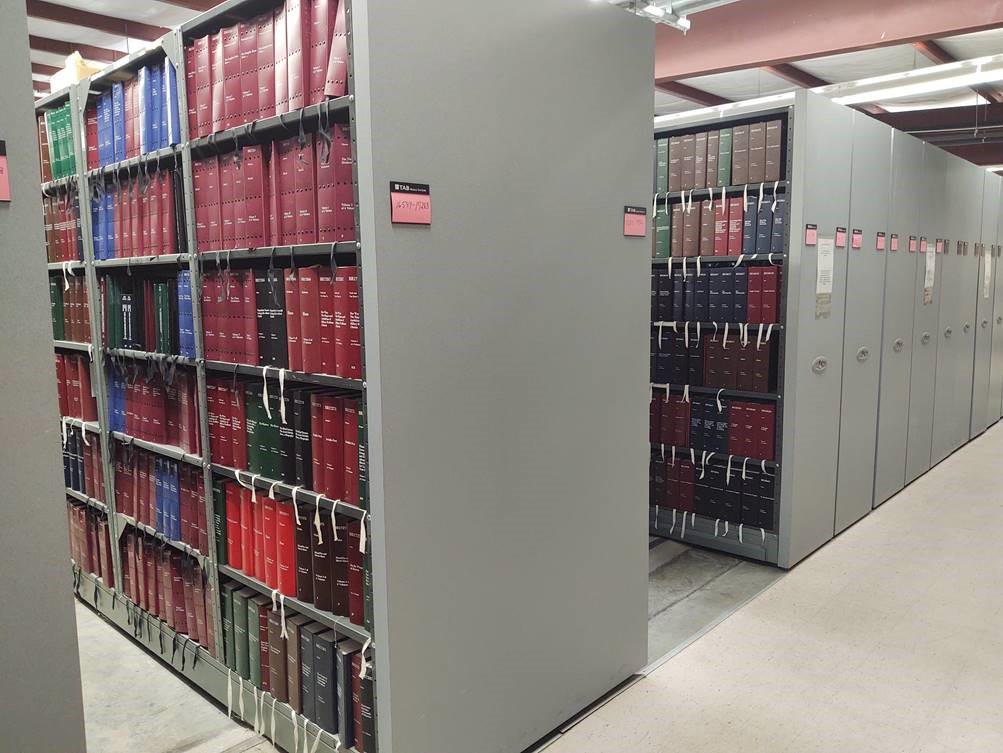 A Braille book takes much more space than a traditional print book. Notice the comparison in the next photo.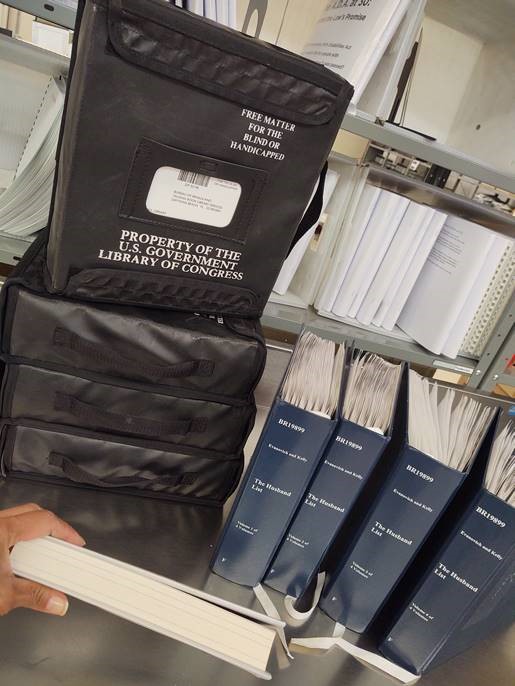 How do we know what to send? Every day we print out anywhere from 750-2,000 address cards, go to the shelves, and pick out and mail each individual one. It is a numerical system. Attention to detail and diligence is a must. These shelving systems are huge. Pictures cannot accurately convey the size, but you feel as if the shelving could swallow you whole. When you are alone in the stacks, it's a pretty unique feeling!
The digital books are even more impressive. We have just over 30,000 titles in stock. Since we have multiple copies of each title, we have almost 650,000 digital books in our collection!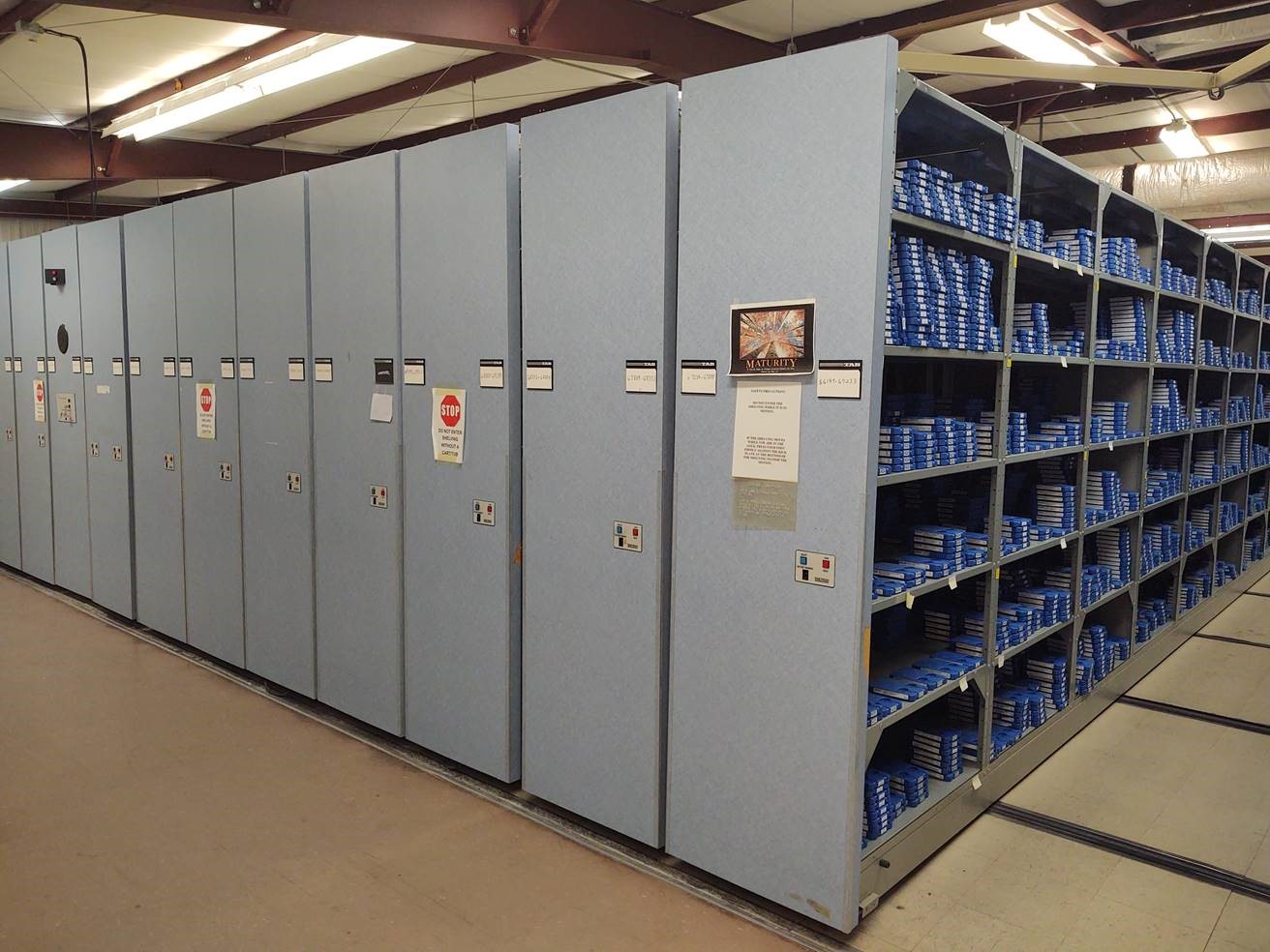 This is just one section of the library. These shelves slide back and forth and are packed on both sides. This is where everything is placed back on the shelves after it is returned from the patrons.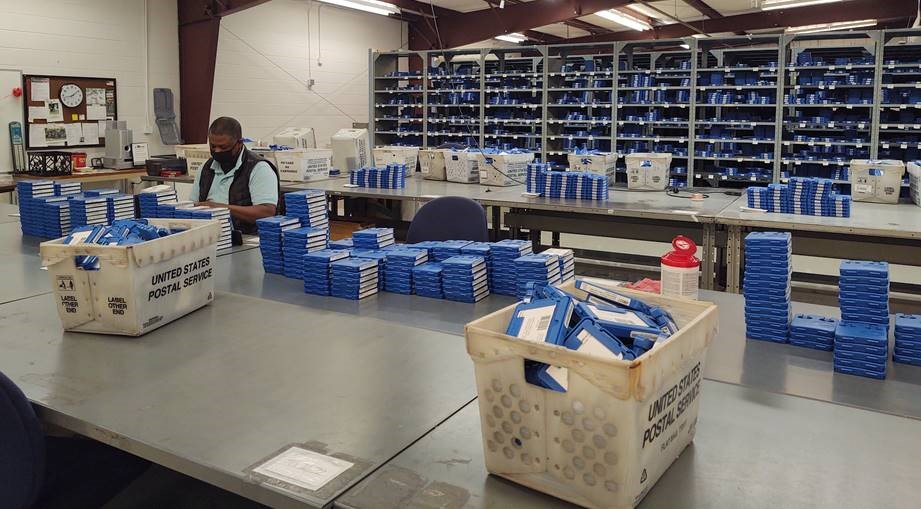 These pictures show both ends of the sorting area table in circulation. Here you can see a few staff members sorting and inspecting. We get thousands of incoming items every day and they all need to be sorted and moved from the USPS trailer to laundry-type bins, to smaller stackable bins, then spread out and stacked in numerical order. Finally, they are sorted onto carts to go back on the shelves.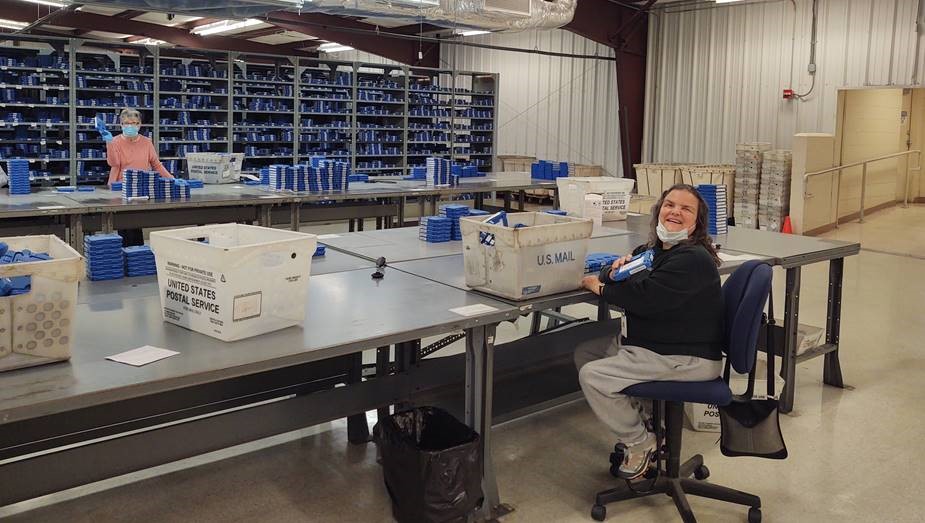 New books come in from NLS in Washington DC the same way. They need to be sorted, added into the catalog, and then shelved. Once they have been processed, we tell our patrons we have new books and the cycle keeps on going!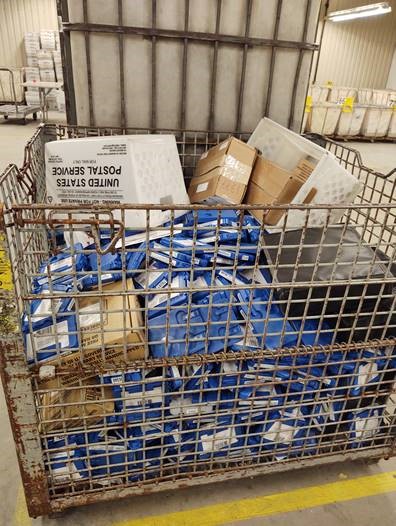 New books and recordings do not just come from NLS. We have our own recording studio where we record Florida authors, Florida subject matter, the Sunshine State and Florida Teens Read lists, and special items like the Commissioner's Reading List. We make sure all are accessible to our patrons and record those that are not. With all of the review and editing involved, it takes anywhere from 9 months to a year to record one book.
NLS also has the Braille and Audio Reading Download service (BARD). Network libraries all over the country, with studios just like ours, also record books and make them available to their patrons for download to wireless devices like Android and Apple. We have posted 116 books to date! We also contribute a magazine, the Kiplinger Retirement Report.
We record many items like the Blinded Veterans Association newsletter for blind service organizations. We also record for our partners on campus. We recorded the Rehabilitation Center student manual as well as the Business Enterprise Program's Vendor Selection test. We have recorded hours of materials for training they need to successfully operate snack bars, cafeterias, and vending facilities.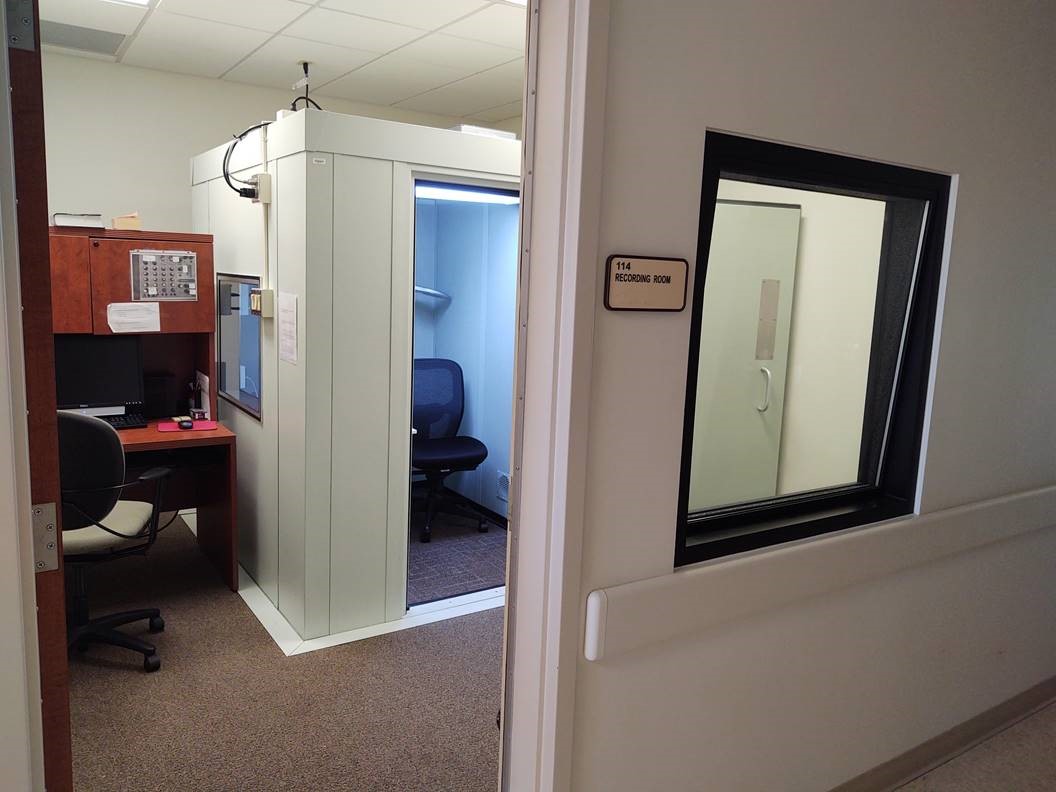 We are excited to continue to provide the access our patrons need to books and materials to enrich their lives.
Thank you!
Maureen Dorosinski, M.L.I.S.
Librarian/Production Supervisor