Frequently Asked Questions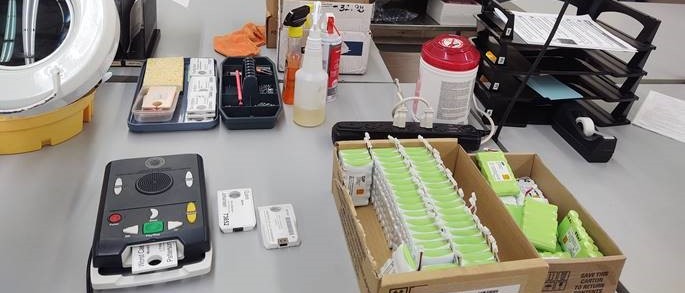 How Do I Get Started?
If you think Braille and Talking Book Library Services are for you, please fill out the application form. You will need to have your disability certified by a doctor, nurse, social worker, counselor, librarian or other qualified professional. Due to federal government regulations, reading disabilities must be certified by a doctor of medicine or osteopathy. You can download:
Please select the Apply for Library Services link from the navigation menu to access an online application.
How Do I Know if I Am Eligible for Library Services?
If you cannot see standard sized print, are unable to hold a book or turn a page, or have a reading disability, you may be eligible for library services regardless of age.
What Does All This Cost Me?
This library service is free and is supported by your tax dollars. Braille, books, magazines and equipment, provided by the Federal government through the Library of Congress, are mailed as Free Matter.
Who Can Certify an Application?
For visual and physical impairments, any professional such as a nurse, social worker, teacher, optometrist, librarian, therapist, counselor, or activity director can certify an application. People with reading disabilities can only have their applications certified by a Medical Doctor or Doctor of Osteopathy.
What Is The Certification Process?
Once an application is received, we check the application for completeness and signatures. We contact the professional named as the certifying authority for appropriateness and verification. All certifications are verified. Any applications not properly certified will be returned.
How Do I Order Books?
We recommend that you select your own books, and suggest that you keep a sizeable list of books. We will provide you with catalogs of our books and a subscription to "Talking Book Topics" or "Braille Book Review", which lists new books. You can send in the order forms at the back of the catalog, or order online at https://webopac.klas.com/fl1aopac/ or call the library serving you. We can also program the computer to select books based upon your likes and interests. Then, once a week the computer will check if you are ready for service. It will look at your list, compare it against the books available at the library, and select some titles for you. We will start you at three per week. We can send more or less as you wish. Call us at 1-800-226-6075 with any changes that you may want.
How Do I Order Magazines?
If you wish to receive magazines in Braille or recorded format, call the library at 1-800-226-6075 and ask for the magazine catalog and order form. Please note that it may take six to eight weeks to start a magazine subscription.
How Do I Order Descriptive Media?
Descriptions make television programs, feature films, home videos, and other visual media accessible to people who are blind or visually impaired by providing descriptive narration of key visual elements in programs. If you wish to receive descriptive videos on DVDs (Digital Video Disc), call the library at 1-800-226-6075 and ask for the Descriptive Video and DVD order form.
How Do I Return Books, Magazines And Videos?
Books, magazines and descriptive videos are sent with reversible mailing cards. Simply turn the card over to the Library's address. No postage is required. You drop them in any mail box or take them to the post office. Ask your local postmaster if you have a problem returning books. Please return the books as soon as you finish them. Anything received without a reversible mailing card does not have to be returned.
How can I get something made in braille?
The Library only produces Braille items for inclusion in the catalog: for books distributed to patrons, for newsletters by established blind service providers, and for magazines that are part of the NLS magazine program. We do not create items for individual ownership. According to NLS guidelines, we will take consideration requests for items not found in the catalog. You may want to consult this list of Braille resources that may prove helpful.
Interested in Hearing the Daily Newspaper?
On NFB-NEWSLINE®, you can easily choose which newspaper, section, and article to read using a standard touch-tone telephone. The toll-free centralized call-in center provides service without delay to any subscriber.
To order or get more information, please call the Library at 1-800-226-6075.
If you are not registered with with the Library, but are legally blind or print handicapped, you will need to fill out an application and attach a letter from a qualified professional attesting to your eligibility. Clients of the Division of Blind Services can contact their VR counselor or district office for assistance.
You can also download and print out an application for NFB-NEWSLINE® in PDF format at https://nfb.org/sites/nfb.org/files/images/nfb/documents/pdf/newslineapp.pdf or complete an online application at http://www.nfbnewsline.net/Nl2/NL2NewUserReqInput.jsp.
After your registration is processed, you'll receive a letter containing your activation code and instructions on how to begin reading the newspaper with NFB-NEWSLINE®.
What about Adaptive Equipment, Accessories, and Types of Players?
If you think you may need adaptive equipment in order to benefit from Talking Book Library Services, call 1-800-226-6075 and a Reader Advisor can tell you about the adaptive equipment and accessories which are available.
Braille and Talking Books Library Hours
If you have any questions, please call 1-800-226-6075. We are available Monday through Friday, 8:00 am to 5:00 pm, excluding holidays. Voice mail is available 24 hours a day if you wish to leave a message. A Reader Advisor will return your call within 24 hours.